photo tips for naked portraits
shoot better naked portraits
naked person photos are the most difficult photo subject. Your model will need some time to adapt to the unusual situation of being naked in front of a camera and the photographer. Therefore some psychological (life) experience will help the photographer to guide the model to excellent photos.
The model is as good as the photographer is.
>>> naked portrait - photo tips
>>> photo software- programs I use
1. the (naked) photo shooting starts with your first contact
there is some pre-work for the photo shooting to be done:
- ask the model about his photo shooting experiences
- let the model explain what photo ideas he has (fantasies)
- make clear what photos you would like to shoot
- show examples, have a sample picture page on your website ready
- important: talk about the model release, the contract how the pictures will be
used by the model and the photographer
- find a date when both have enough time for the shooting, (at least a half a day)
- change your personal data vis versa, that you can contact each other at any time
- important: have a phone call with your model to build up even more confidence,
you learn a lot by talking one to one.
2. at the shooting, take your time to build up confidence with your model
drink a coffee together, show interest in your models life, don't hurry nor stress, start only if you both are ready for the photos
3. no contract - no shooting
its absolutely essential that you both sign the contract you agreed on before (pre-work). What you don't have in written with signature, you don't have! The use of the pictures might lead to very unpleasant legal situations even after years. So both should keep carefully there signed copy of the contact.
4. start shooting a first simple series - give positive feedback
give the model a good, positive feedback, make him feel great, and repeat saying the he is doing well. Sit together and analyze the photos, again let the model know that you like the pictures, point out the good shots, work on the not so good ones.....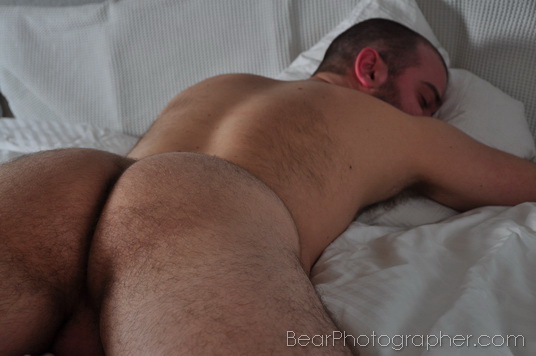 5. help your model - perform even better
your model is as good as you are. Use your experience and your intuition to guide the model to the point where the model is bringing in his fantasia and his masculinity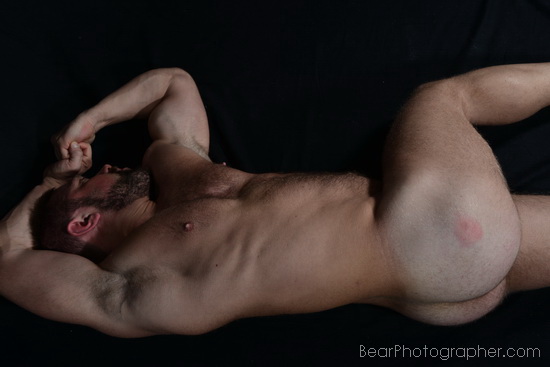 6. get crazy - play with all there is, in your model and in yourself
play lustful like children and have fun finding new viewpoints and new positions, try all that comes to your and your models mind. Masculinity, fear, happiness, anger, the pig in every man, the good soul of all man......
7. light - play with the available light or with your flash system
learn how to use the available light, pictures with a mixture of day light and flash light are critical to handle, but interesting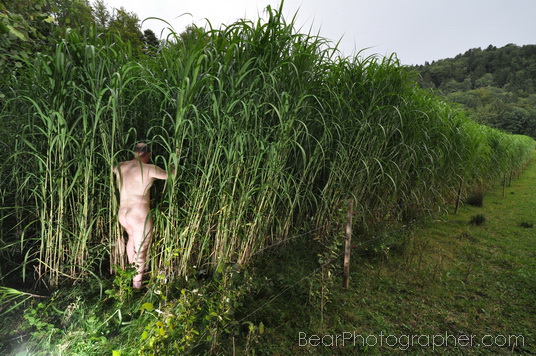 >>> naked portrait - photo tips
>>> photo software- programs I use
P H O T O S H O O T I N G S
>>> photos & news <<<
>>> more photos & news <<<
top ¦ email
home ¦ photo shooting ¦ next steps ¦ your own site ¦ model release
FAQ's ¦ photos & news ¦ BearPhotographer ¦ photo tips
photo shooting next to you ¦ photo shoot location - themes
my preferred bear links ¦ keywords ¦ male photos sites
P H O T O G R A P H Y & A R T


MuscleBearModels.com | BearPhotographer.com | Male.photos
MaleArt.photos | MuscleBear.photos | EuroMuscleBears.com
BearHealth.com | BearIndex.com | BearSeek.com | XBears.com
MuscleBear.photography | MascPhoto.com
BearPhotographer.date | BearPhotographer.men
earPhotographer.net | BearPhotographer.org
BearCommunity.com
find me on Modelmeyhem.com | male-photographer.tumblr.com
BearPhotographer.WorldPress.com
M O D E L S


MuscleBearModels.com
MaleModel.pics | MachoModel.pics | Butch.pics | ButchModel.pics
EuroMuscleBears.com | GingerPhoto.date | HairyBulls.com | HairyPhoto.date
HotGinger.men | MachoModel.pics | MaleModel.party | MaleModel.pics
MalePhoto.party | MascPhoto.com | MuscleBear.men | MuscleBear.date | MuscleBear.party | MuscleBear.photography | MuscleBear.photos
MusclePhoto.date | MuscleModel.party | PhotoShooting.men | PhotoShoot.party
PhotoShooting.date | PhotoShooting.party | MadBear.party | Demance.party
male butch macho model photo shooting links
B E A R L I N K S


bear photographer links ¦ model links ¦ photo blog links ¦ erotic male photo links
photo art links ¦ bear magazine links ¦ photo book links ¦ bear store links
bear site links ¦ more bear sites ¦ bear app links ¦ link list
K E Y W O R D S


actor, aesthetic, alpha, Amsterdam, art, athletic, Austria, bear photographer, Barcelona, beard, bearded, beefy, Berlin, big, big muscle, big musclebear, bisexual, bodybuilder, boy, briefs, brothers, butch, daddy, dad, dudes, erotic, Europe, exhibitionist, fetish, free, gainer, gay, German, ginger, guys, hairy, Hamburg, handsome, hiking, Iceland, industrial, inked, lstanbul, jockstraps, Latino photos, leather, leather, links, Lisboa, Lisbon, Lissabon, London, lost places, Madrid, men, mascular, masculine, massive, men, model, Munich, muscle, muscle, musclebear, my, naked, nature, nude, original, outdoor, Paris, partner, perfect, personal, photographer, photography, photo-shoot, photo shooting, pierced, portrait, Prague, professional, red-haired, sexy, singlets, sport, stocky, straight, studio, Switzerland, tattoos, underwear, urban, woods, workout, wrestling, your, Zurich
Bearphotographer
actor, aesthetic, alpha, art, athletic, Austria, Barcelona, beard, bearded, beefy, Berlin, big, big muscle, big musclebear, bisexual, bodybuilder, boy, brothers, briefs, butch, daddy, dad, dudes, erotic, Europe, exhibitionist, fetish, free, furry, gainer, gay, Germany, ginger men, guys, ginger photo date, hairy, hairy photo date, Hamburg, handsome, hiking, hot ginger men, Iceland, inked, industrial, jockstraps, Latino, leather, links, Lisboa, Lisbon, Lissabon, London, lost places, Madrid, male, masculine, mascular, massive, men, men photos, model, mountain, Munich, muscle, muscleBear, muscleBear date, muscle photo date, my, naked, nature, nude, original, outdoor, Paris, partner, perfect, personal, photo shoot, photo shooting, photo shooting date, pierced, portrait, professional, red haired men, sexy, singlets, sport, stocky, straight, studio, Switzerland, tattooed guys, moutains hiking masculinity keywords, muscle Bear photo shooting keywords,
fetish male photography keywords, beefy stocky men photo shoot keywords
S E A R C H R E S U L T S


actor, aesthetic, alpha, art, athletic, Austria, Barcelona, beard, bearded, beefy, Berlin, big, big muscle, big muscle bear, bisexual, bodybuilder, boy, briefs, brothers, butch, Catalan, couple, dad, daddy, dudes, erotic, Europe, exhibitionist, fetish, free, furry, gainers, gay, Germany, ginger men, guys, ginger photo date, hairy, hairy photo date, Hamburg, handsome, hiking, hot ginger men, industrial, inked, jockstraps, Latino, leather, links, Lisboa, Lisbon, Lissabon, London, lost places, Madbear, Madrid, male, mascular, masculine, massive, men, men photos, model, mountain, Munich, München, musclebear, musclebear date, muscle photo date, muscle, musclebear, my, naked, nature, nude, original, outdoor, Paris, partner, perfect, personal, photo shoot, photo shooting, photo shooting date, portrait, professional, red haired men, redhead guys, sexy, singlets, Spanish, stocky, straight, studio, Stuttgart, Switzerland, tattoos, underwear, urban, woods, workout, wrestling, your, Zurich,
S C H L Ü S S E L W Ö R T E R


ästhetische Fotos, Akt Bilder, Barcelona, Bären Kerle, Bären Modelle,
behaarte Männer, behaarte Kerle, Berlin, Bilder, Bodybuilder, Business Shootings, erotische Bilder, Europa, Fotograf, Fotografien,
Fotos, Fotografie, erotische Fotografien, Foto Shooting, gay Männer, gratis professionelle Bilder, gratis Foto Shooting, Hamburg, knackige Burschen,
knackige Kerle, knackige Männer, kostenlose Foto Shootings,
kostenlose Kerle Fotos, kräftige Bären, kräftige Männer, kräftige Jungs,
kräftige Kerle, kräftige Männer, MuskelMänner, Jungs Fotos, Jungs Kerle Fotos,
MuskelBären, MuskelBär Modelle, MuskelMänner, Muskel Modelle,
Paris, Partner Shootings Portraits, Prag, professionelle Akt Fotos,
Rom, rot haarige Männer, Schweiz, stämmige Jungs, stämmige Kerle,
stämmige Männer, Stuttgart, Stuttgart Bären, woof, Zürich, BearPhotographer